Dental Implants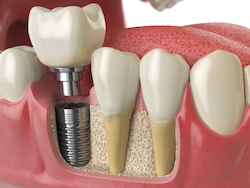 Dental implants are designed to provide a foundation for replacement teeth that look, feel and function like natural teeth. The person who has lost teeth regains the ability to eat virtually anything and can smile with confidence, knowing that teeth appear natural and that facial contours will be preserved. The implants are tiny titanium posts which are placed into the jaw bone where teeth are missing. The bone bonds with the titanium, creating a strong foundation for artificial teeth. In addition, dental implants can help preserve facial structure, preventing the bone deterioration which occurs when teeth are missing.

Services We Offer
We are committed to caring for a wide variety of dental needs and our full suite of services allow us to do so. If you're searching for a service you don't see listed, please contact our office so we can further discuss your smile needs.

Family Dentistry
Comprehensive Exams
Professional Cleanings
Fluoride Treatments
Fillings
Periodontal Care
Dental Bridges
Dental Implants
Wisdom Teeth Removal
Sportsguards
Sedation Dentistry
Cosmetic Dentistry
Teeth Whitening
Porcelain Veneers
Invisalign®
Inlays & Onlays
Dental Bonding
Innovative Technology
Dentistry is constantly evolving. and we make it our mission to remain at the forefront. Using innovative techniques and the most updated technology allows us to treat you with profound precision. Our office utilizes digital X-rays to provide us with the most enhanced images of your jawbone and teeth. We also incorporate intraoral cameras into your visit so you can follow along with your care and know exactly what is happening at all times.
Sedation Options
Dental anxiety affects patients of all ages in a variety of ways. To combat this, we offer sedation for children and adults alike. Nitrous oxide, otherwise known as laughing gas, is a form of sedation that is released through a small mask that sits on your nose throughout your visit. This helps keep a patient to calm and relaxed throughout treatment.